OUTSOURCING 3PL LOGISTICS
EXCELLENCE IN OUTSOURCING 3PL LOGISTICS FOR CORPORATE CUSTOMERS
At Spectrum, we specialise in providing top-notch solutions for outsourcing 3PL logistics services, catering to Ireland's leading brand owners. Our expertise lies in efficient storage, seamless order fulfilment, and global shipping. With a focus on various sectors, including media, food & drink, apparel, home and consumer goods, cosmetics, technology, and public and charity sectors, we take pride in delivering excellence to our corporate customer base.
SECURE STORAGE SOLUTIONS
FOR YOUR GOODS
Experience the advantages of our purpose-built, state-of-the-art storage facility spanning 80,000 square feet. As one of the leading providers for 3PL e-Commerce fulfilment services in Ireland, we ensure the optimal conditions for storing your valuable goods.
A TRUSTED 3PL PARTNER
FOR CJ FALLON
When CJ Fallon sought a reliable 3PL company in Ireland, they entrusted us with their warehousing and fulfilment needs. With a vast inventory of publications and over 100,000 items in stock, their key challenges included effective stock management, tailored logistics solutions for schools, and the smooth pick, pack, and shipment of hundreds of orders each week. Leveraging our bespoke warehousing systems, advanced fulfilment centre, and meticulous processes, we crafted an end-to-end logistics solution that perfectly catered to CJ Fallon's requirements.

Spectrum's bespoke warehousing systems, fulfilment centre and rigorous processes allowed us to design and deliver an end-to-end logistics solution for CJ Fallon.
3PL e-commerce FULFILMENT SERVICES
TAILORED TO YOUR NEEDS
As part of our comprehensive 3PL e-Commerce fulfilment services, we provide a customised pick, pack, and distribution solution for every consignment. Seamlessly integrating with your eCommerce system, we receive your orders in real-time directly into our SAP ERP system. Once picked, your orders undergo our rigorous order quality control process to ensure accuracy and precision.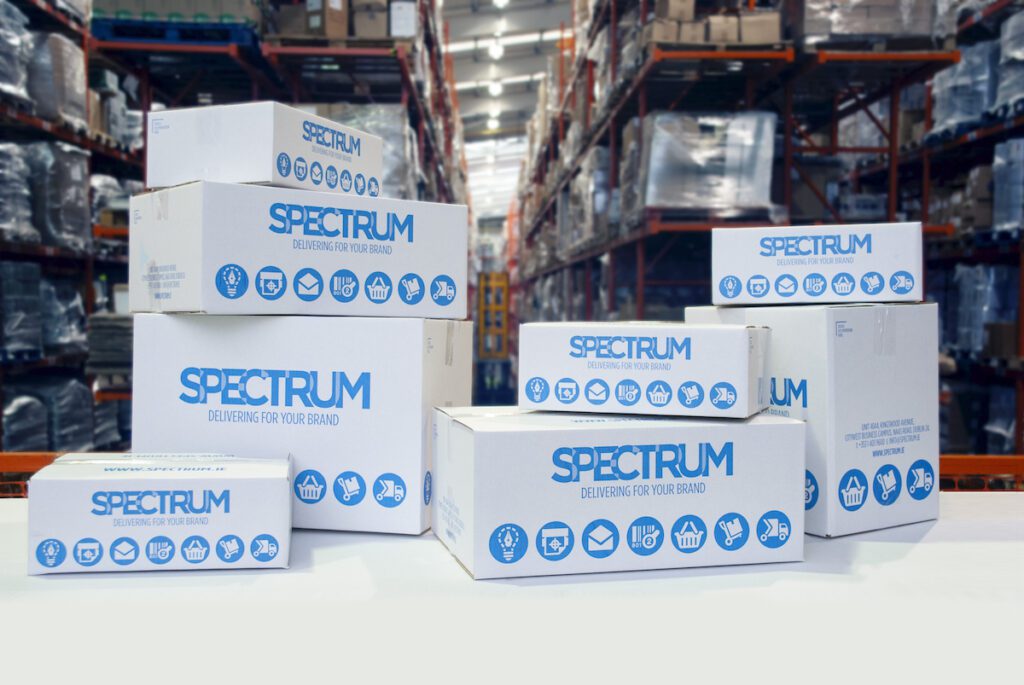 PARTNERING FOR SUPERIOR CUSTOMER SERVICE in 3PL SERVICES
Our commitment to exceptional customer service sets us apart when delvering 3pl services. Our commitment to exceptional customer service sets us apart when delivering 3PL services. At Spectrum Print Logistics, we take pride in our dedicated customer service team that builds lasting relationships with our clients. Whether you have inquiries regarding products, pricing, stock levels, returns, or collections, our team is here to provide comprehensive support for your business.
Spectrum offer you full control of your inventory, with direct access to real-time reporting and ordering portals. We assist you procure, store and dispatch it when and where you want.
Real-time Inventory Access
Procurement Range
Manage & Optimise the Process
Real-time Inventory Access
You can virtually access all your inventory in real-time and call off stock for distribution by using our online ordering portal.
Procurement Range
Manage & Optimise the Process
WE THINK OUTSIDE OF THE BOX
We have responsive problem-solvers who create the best distribution practices, innovative processes, and partner with experienced personnel to deliver a premium service for your brand consistently.
Monday - Friday 8:30 - 17:30
UNIT 4044, Kingswood Avenue,
Citywest Business Campus,
Naas Road, Dublin 24,
D24 T6YE, Ireland.