OUR TECHNOLOGY, PEOPLE AND EXPERTISE ALLOWS US TO DELIVER EXCELLENCE FOR OUR CORPORATE CUSTOMERS.
Spectrum is proud to partner with many of Ireland's leading brand owners, storing and shipping products and marketing material to a variety of commercial destinations. Our technology, people and expertise allow Spectrum to deliver excellence for our customers base which covers the media, food & drink, apparel, home and consumer goods, cosmetics, technology, public and charity sectors.
Our purpose built storage facility in Citywest has been designed to provide the optimum conditions for storing every kind of material.
Our warehouse and logistics hub offers a safe, secure, clean, modern facility to provide our logistics services. We are flexible in that we do not require our clients to commit to a minimum or maximum stock holding level.
PACK AND
POP FOR COCA COLA
Coca-Cola HBC is one of the world's largest bottlers of drinks. They manufacture, package, merchandise and distribute the final branded products to trade partners and consumers throughout Ireland and Northern Ireland.

Storing over 650 pallets of marketing collateral for Coca-Cola, our logisitics team process 98 pallets worth of marketing material for Coke every week.
We work with businesses across many sectors, helping them create effective communications across all types of media.
Every brand needs to know where it's headed. We work with your team to help them understand what your brand stands for, or needs to stand for to remain relevant to your customers.
CREATING
CONNECTIONS - THREE
Three Ireland needed a design and print partner who could assist with the creating, printing and installation of their in-store promotional campaign artwork in shops nationwide.

Learn about how our team were able to develop unique artwork specifically tailored to each of Three Ireland's retail locations whilst maintaining the consistency of the campaign's aesthetic. From marketing materials to the point of sale stands, our team assists you with sourcing inventive and practical products to engage your audience.
We leverage our big spend in the print management channels to deliver a significant difference to your bottom line. From marketing materials to the point of sale stands, our procurement team can assist you with sourcing inventive yet practical promotional products to engage your audience.
CHARITY BEGINS AT HOME -
IRISH CANCER SOCIETY
The Irish Cancer Society is the national charity in the Republic of Ireland dedicated to eliminating cancer as a major health problem, and improving the lives of those who have cancer.

They wished to effectively utilize their print budget to maximise the amount of print collateral they procured. Learn about how Spectrum were able to assist the Irish Cancer Society below.
We offer a turnkey solution for eCommerce brands and retailers. Our expertise allow you to focus on delivering a valuable resource for your brand.
SETTING THE TREND
- ZINZAN
ZinZan is an Irish owned eCommerce furniture store with a mission to set the trend in replica and original designs, providing the opportunity for everyone to create homes and spaces with an edge.

In partnership with ZinZan and our eCommerce customer service team we implemented a one stop shop solution for ZinZan, covering storage, pick, pack and distribution through our cost-effective shipping services.
Adding high-quality tissue paper or simply adding branded stickers on boxes - this is known as 'kitting', and our team strives for presentation excellence, with a keen attention to detail after . Using our 10,000 Sq Ft kitting and assembly line, our kitting team is ready to kit your bulk or individual products into ready to ship sets that reflect your brand.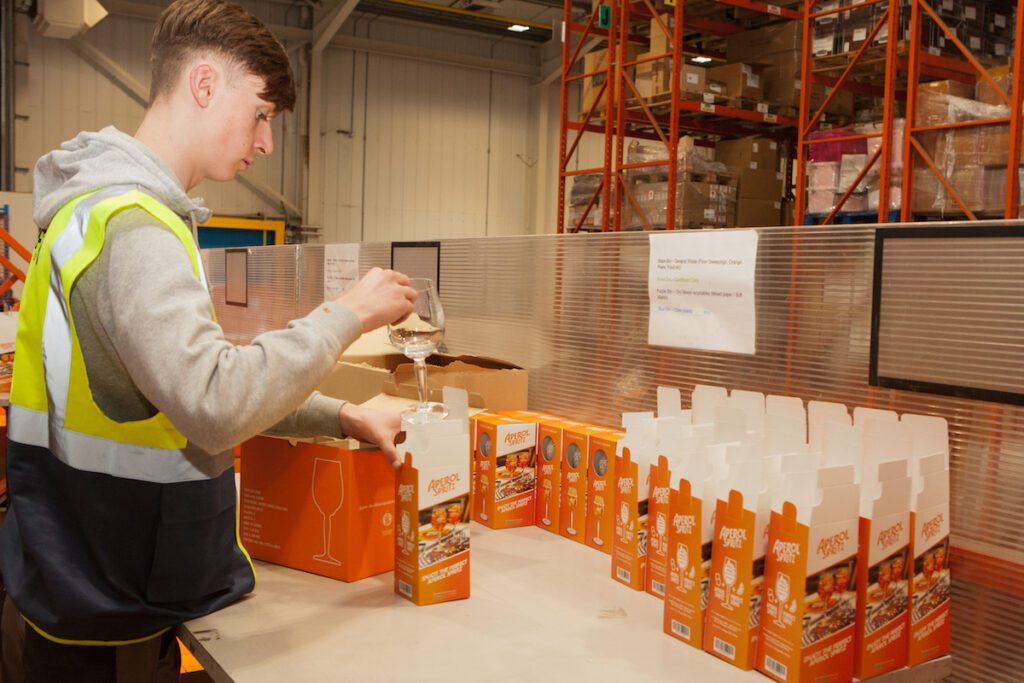 WE THINK OUTSIDE OF THE BOX
We have responsive problem-solvers who create the best distribution practices, innovative processes, and partner with experienced personnel to deliver a premium service for your brand consistently.
Monday - Friday 8:30 - 17:30
UNIT 4044, Kingswood Avenue,
Citywest Business Campus,
Naas Road, Dublin 24,
D24 T6YE, Ireland.