Our technology, people and expertise allow us to deliver excellence for our corporate customers.
Spectrum is proud to provide a 3PL service to many of Ireland's leading brand owners, storing, fulfilling and shipping orders to commercial destinations across the globe. Our technology, people and expertise allow Spectrum to deliver excellence for our customer base which covers the media, food & drink, apparel, home and consumer goods, cosmetics, technology, and public and charity sectors and Warehousing Services.
Our purpose-built, 80,000 Sq Ft storage facility has been designed to provide the optimum conditions for the storage of your goods, providing one of the leading 3PL Warehouse Management Services in Ireland.
CJ Fallon required a 3PL (Third party logistics partner) so they could focus on their publishing, sales and marketing activities. With hundreds of publications and over 100,000 items in stock, some of the key challenges included stock management, bespoke logistics solution for schools, and the pick, pack and shipment of hundreds of orders per week.

Spectrum's bespoke warehousing systems, fulfilment centre and rigorous processes allowed us to design and deliver an end-to-end logistics solution for CJ Fallon.
As part of our 3PL service we offer a pick, pack and distribution service that is individually tailored to each consignment. We can integrate with your eCommerce system, receiving your orders in real-time directly to our SAP ERP system. Once picked, orders pass through our rigorous order quality control process.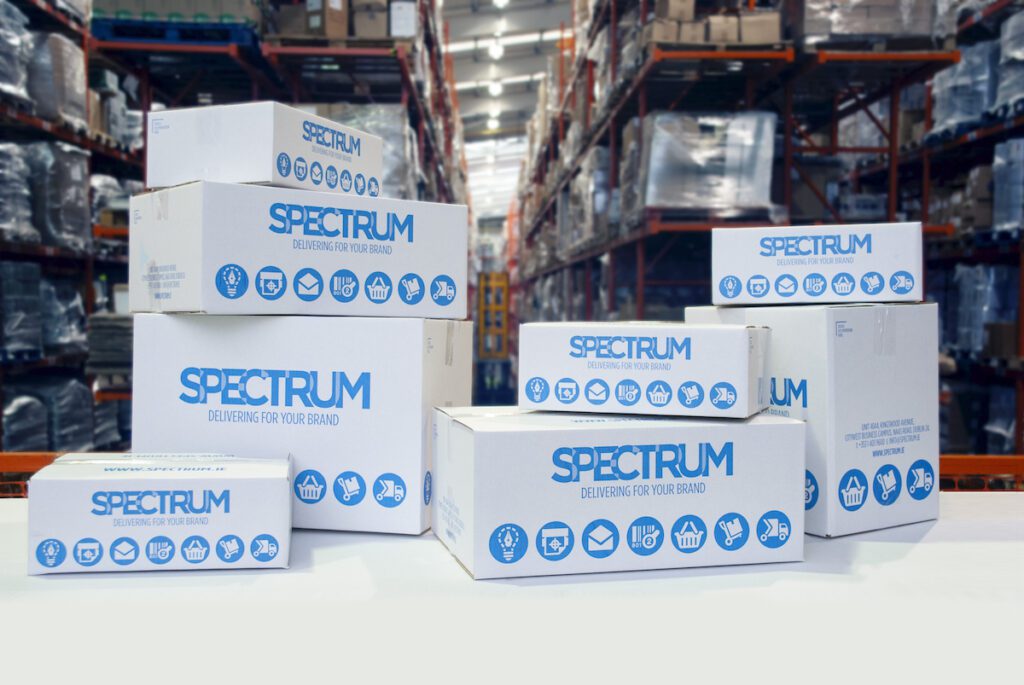 SETTING THE TREND
- ZINZAN
ZinZan is an Irish owned eCommerce furniture store with a mission to set the trend in replica and original designs, providing the opportunity for everyone to create homes and spaces with an edge.

In partnership with ZinZan, we implemented a one stop shop solution covering storage, pick, pack and distribution through our eCommerce offering and customer service team.
We pride ourselves on our dedicated customer service team who builds longstanding relationships with you. Our team are here to support your business with all your enquiries regarding products, pricing, stock levels returns and collections.
Our bespoke ordering portal allows you to gain control of your inventory, offering 24/7 customer ordering real-time stock availability and category management.
We operate leading edge technology SAP Business One, allowing real-time traceability and tracking on every item and reporting that results in savings for you.
Our dedicated Quality Controller ensures successful service delivery in validating print quality, ensuring you receive exactly what you are looking for every time.
We are proud to serve as your dedicated brand guardians and our team of creative specialists are ready to assist with your next marketing campaign.
We offer more efficient processes, increased speed and flexibility, consistency of delivery and better deployment of resources through comprehensive reporting.
We pride ourselves in a seamless logistics process which improves overall efficiency of your to support your specific supply chain strategies.
Adding high-quality tissue paper or simply adding branded stickers on boxes - this is known as 'kitting', and our team strives for presentation excellence, with a keen attention to detail. Using our 10,000 Sq Ft kitting and assembly line, our kitting team is ready to kit your bulk or individual products into ready to ship sets that reflect your brand.
Spectrum offer you full control of your inventory, with direct access to real-time reporting and ordering portals. We assist you procure, store and dispatch it when and where you want.
Real-time Inventory Access
Procurement Range
Manage & Optimise the Process
Real-time Inventory Access
You can virtually access all your inventory in real-time and call off stock for distribution by using our online ordering portal.
Procurement Range
Manage & Optimise the Process
Benefit from the extensive knowledge and experience of the Spectrum team who will help you identify the best packing solutions for the type and size of project at hand.
Our team of experts has a proven track record in dealing with the most high profile brands in the world and rest assured, they handle every order with kid gloves.
WE THINK OUTSIDE OF THE BOX
We have responsive problem-solvers who create the best distribution practices, innovative processes, and partner with experienced personnel to deliver a premium service for your brand consistently.
Monday - Friday 8:30 - 17:30
UNIT 4044, Kingswood Avenue,
Citywest Business Campus,
Naas Road, Dublin 24,
D24 T6YE, Ireland.