We offer end-to-end campaign management services, from concept ideation to delivery following campaign execution.
DESIGN & ARTWORKING SERVICE
Every brand needs to know where it's headed. We work with your team to help them understand what your brand stands for or needs to stand for to remain relevant to your customers.
CREATING
CONNECTIONS - THREE
Three Ireland needed a design and print partner who could assist with the creating, printing and installation of their in-store promotional campaign artwork in shops nationwide.

Learn about how our team were able to develop unique artwork specifically tailored to each of Three Ireland's retail locations whilst maintaining the consistency of the campaign's aesthetic. We leverage our big spend in the print management channels to deliver a significant difference to your bottom line. From marketing materials to point of sale stands, our procurement team can assist you with sourcing inventive yet practical promotional products to engage your audience.
Our warehouse and logistics hub offers a safe, secure, clean, modern facility to provide our logistics services. We are flexible in that we do not require our clients to commit to a minimum or maximum stock holding level.
CHARITY BEGINS AT HOME -
IRISH CANCER SOCIETY
The Irish Cancer Society is the national charity in the Republic of Ireland dedicated to eliminating cancer as a major health problem, and improving the lives of those who have cancer.

They wished to effectively utilize their print budget to maximise the amount of print collateral they procured. Learn about how Spectrum were able to assist the Irish Cancer Society below.
Our bespoke ordering portal allows you to gain control of your inventory, offering 24/7 customer ordering real-time stock availability and category management.
We operate leading edge technology SAP Business One, allowing real-time traceability and tracking on every item and reporting that results in savings for you.
Our dedicated Quality Controller ensures successful service delivery in validating print quality, ensuring you receive exactly what you are looking for every time.
We are proud to serve as your dedicated brand guardians and our team of creative specialists are ready to assist with your next marketing campaign.
We offer more efficient processes, increased speed and flexibility, consistency of delivery and better deployment of resources through comprehensive reporting.
We pride ourselves in a seamless logistics process which improves overall efficiency of your to support your specific supply chain strategies.
Adding high-quality tissue paper or simply adding branded stickers on boxes - this is known as 'kitting', and our team strives for presentation excellence, with a keen attention to detail. Using our 10,000 Sq Ft kitting and assembly line, our kitting team is ready to kit your bulk or individual products into ready to ship sets that reflect your brand.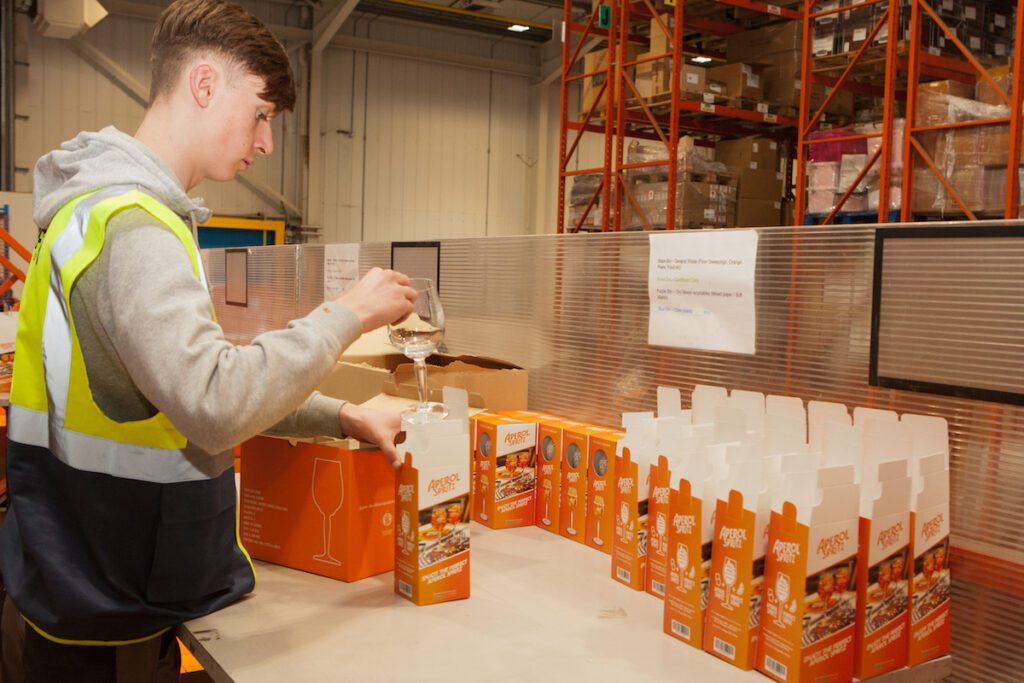 Spectrum offer you full control of your inventory, with direct access to real-time reporting and ordering portals. We assist you procure, store and dispatch it when and where you want.
Real-time Inventory Access
Procurement Range
Manage & Optimise the Process
Real-time Inventory Access
You can virtually access all your inventory in real-time and call off stock for distribution by using our online ordering portal.
Procurement Range
Manage & Optimise the Process
WE THINK OUTSIDE OF THE BOX
We have responsive problem-solvers who create the best distribution practices, innovative processes, and partner with experienced personnel to deliver a premium service for your brand consistently.
Monday - Friday 8:30 - 17:30
UNIT 4044, Kingswood Avenue,
Citywest Business Campus,
Naas Road, Dublin 24,
D24 T6YE, Ireland.